Each of you reading this web site is doing so because you are searching for representation or resolution of a matter involving family law. I am sensitive to the different issues you are now facing or need to address, and want to help you reach a satisfactory resolution of the issues that have brought you to my website.
For many years I have been privileged to represent men and women in family law matters. My practice is limited to family law matters including divorce, maintenance, child support, and the valuation and equitable distribution of assets. I have negotiated and resolved separation agreements, disputes regarding the custody and parenting of children, child support, relocation, and in advance of their marriages, I have negotiated prenuptial agreements and post nuptial agreements. These are just a few of the matters in which I, as a matrimonial lawyer, have been involved. In resolving these various issues, I have participated as a mediator and represented parties in their mediations as well as in court proceedings.
I am a member of the American Academy of Matrimonial Lawyers. I have been named a "Super Lawyer" every year that designation has been awarded. I have received the "Preeminent AV" designation by Martindale Hubbell a rating which is the highest rating given to an attorney. I have lectured on matrimonial law, appeared on television, and been interviewed and quoted in magazines and newspapers with respect to my thoughts and opinions as an expert in matrimonial law and current matrimonial matters. Click here to view my AVVO rating.
During the years of my practice I have been selected by judges, attorneys, professors of law and well-known personalities to represent them in their family law matters. I have represented clients in all walks of life and of diverse means.
Family law issues are difficult for all involved. Even among the most well meaning of persons family law matters are can be extremely stressful. The stress of family law matters is built in. It is my goal to help you and to reduce the stress of the family law matter in which you currently find yourself and facilitate an agreement or resolution with a clear understanding of the issues and the law governing your rights. I am hopeful, if at all possible, in reaching resolution to be able to engage in what is often called alternate dispute resolution which includes negotiation between attorneys, mediation, collaborative law, and arbitration.   Of course,  if necessary in protecting your rights I will seek a court's intervention.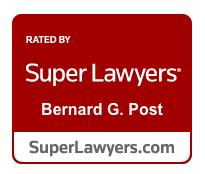 If you would like more information about me or a consultation please do not hesitate to call me at 212 752 1900 or email me at bgp@bpostlaw.com.